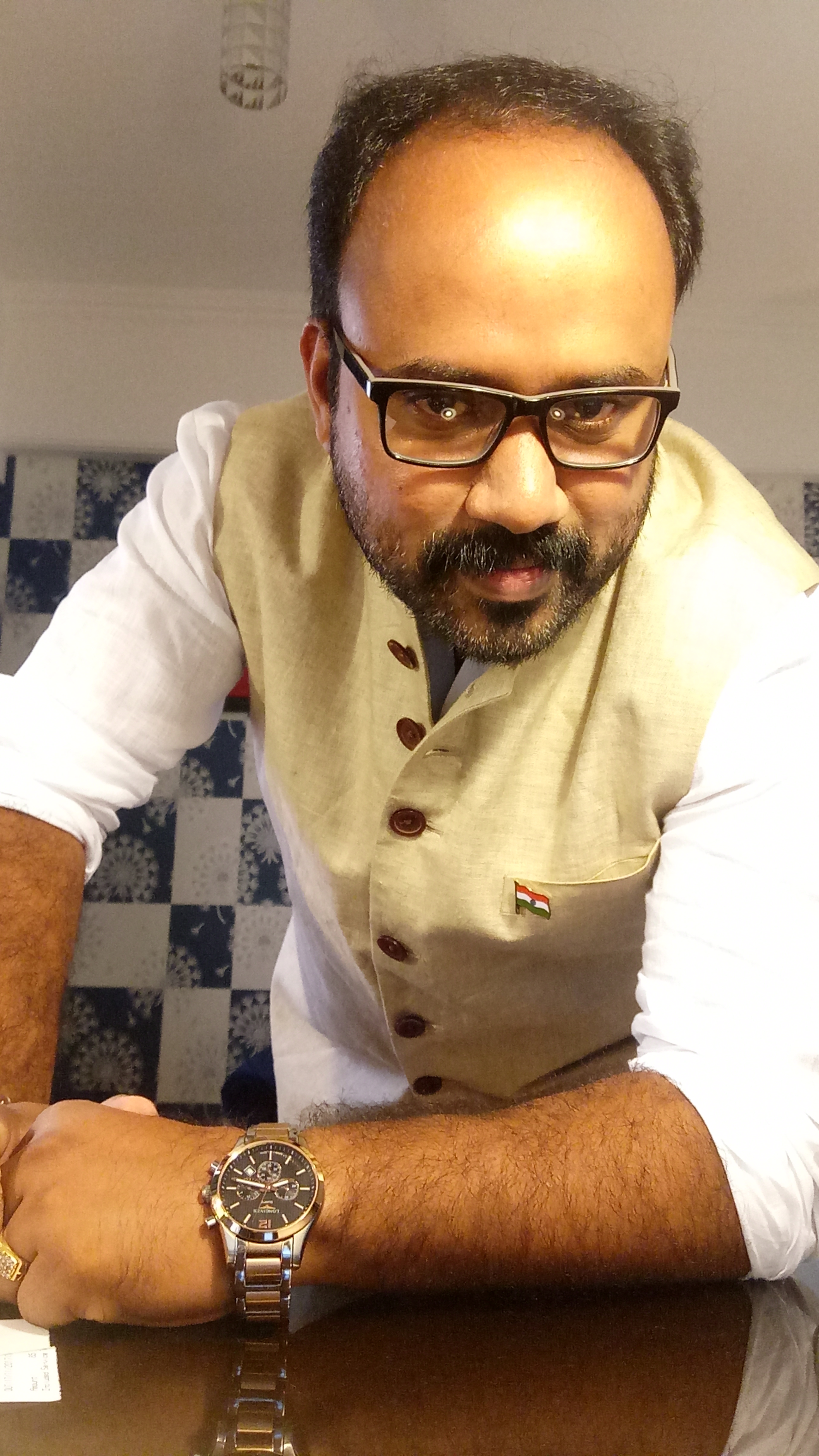 Abhilash Vijayakumar
, an artist and sculptor who, through his captivating colors and surfaces and exquisite sense of balance between realism and abstraction.  His motivating passion effortlessly flows between arts, music and travel. Topped with role as a trainer and motivational speaker, Abhilash spend his propitious time with his students at Art Station and enjoy surprising and creative art discoveries.
Over the years, Abhilash have worked in several mediums — most notably oil and acrylic. Abhilash started drawing when he was only four years and thereafter his painting skills evolved. His versions of childhood imagination has been fostered by his parents and mentors from the beginning, that inspired him to render strong and meaningful paintings in all series and at all stages.
He started learning and practicing paintings and clay art from school level onwards.   He was lucky to be taught the fundamentals of Oil paintings from Artist Shri Krishnaji, water colour from Artist Shri Rajan, Portrait and murals from academy award winner and renowned mural painter Shri K K Warrier.  He started participating in participate group and solo exhibitions from his childhood.  Few significant works featured in; Kerala State Jawahar Balabhavan, Kaladooth Foundation, Matrubhumi etc and continued to exhibit work during his college time, including a number of prominent regional exhibits. He did his first television Illustration for Dooradarshan's documentary 'Paandavan Para' at the age of 15.  His first commissioned ceramic work was for Khadi and Village Industries Board.  Abhilash Vijayakumar received "Passion Perfect Award 2017″ a national level recognition by A3 Foundation for Art and Architecture fraternity at Chandigarh.
Abhilash finds a fine balance between three faces – "Entrepreneur","Artist", "Social Service Enthusiast " It comes effortlessly for Abhilash to channel all the functions positively and fruitfully.  As an Entrepreneur he has made his foot strongly cemented with various business ventures and in that Travel support company, International educational company to name a few !!Blessed with Artistic mind and hand. Has an astonishing ability to turn anything to a mesmerizing outcome. Has not left any stone unturned in the Art world. Painting, clay modeling, Sculpting etc.
Believes in making a change in people's life and world by working together with them and for them. Wants to give back to nature more than what has been taken from!!. Selflessly involves in all the community and social empowerment activities. A Man of positive Vibes and ensures that it is trickled down to the fellow beings!!